Accepting a Connect invitation and logging in
Welcome to Connect, the enterprise social collaboration platform

You have been invited to join a social collaboration platform by an organisation, as a member. Connect is a collaboration portal, accessible only to members of that portal. A brief overview of connect below:

Accepting your invitation
That organisation will have added you via your email address, and you will then receive an invitation to join. Such invitation may look similar to this: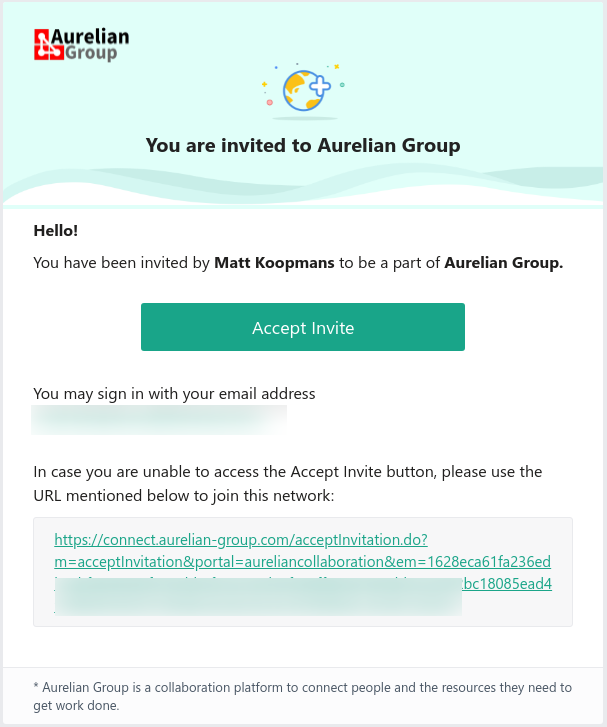 When you click on the button to Accept the invitation, you will be directed to Zoho Accounts to create your account.

When creating an account, you must create a password. The organisation may have password security requirements and you may need to install a Two Factor Authentication. Follow the instructions on the screen if required.

Related Articles

Setting up your Guest Speaker Profile in ShowTime

When invited to be a guest speaker in Zoho ShowTime, you will receive an invitation to register for the application with the organisation that invited you to speak. You will be invited via your email address, and you will have to create a new ...

I want to create a form on my website for Candidates to register - how to add acceptance of terms and conditions?

In Zoho Recruit, you can create a form which you can embed on your website, in which candidates can submit their profiles and resumes - the process of creating a webform is very straightforward, and a code is generated to embed this on your site ...

How to create a bootable USB to install Linux in order to replace Windows

In this article it is mentioned that Windows 7 is out of mainstream support. Yet a lot of computers still run on Windows 7. The logical step is to upgrade to Windows 10, but that comes with other issues such as the invasion of privacy with the forced ...

Delivering a webinar with Showtime as a Guest Speaker

When your guest speaker profile has been set up (see: https://desk.aurelian-group.com/portal/kb/articles/setting-up-your-speaker-profile-in-showtime), the training has been launched by the host, you can follow these steps below to deliver you ...

Configure Email in CRM

How to configure email in CRM How it works In Zoho CRM, you can have all emails to and from contacts associated with the particular record. This means you do not have to go to an external email program to search for email conversations between ...